Description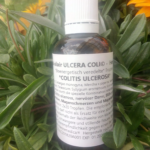 Herbal elixir ULCER COLI© – Herbaleon! Drops
This herbal-mineral complex has a beneficial effect on symptoms such as ulcerative colitis, irritable bowel, diarrhea, flatulence, stomach pain, stomach cramps, fatigue, drowsiness, against strong and permanent pressure during defecation, against intestinal bacteria and parasites.
Ingredients: Crataegus, Mentha x piperita, Valeriana officinalis, Citrus Limon, Artemisia vulgaris, Taraxum, Syzigium aromaticum, Echinacea purpurea, Herbaleon radix u. folium.
Nutritional supplement.
Recommended daily dose: 3×20 drops.
Instill into water (100-200 ml) and mix well.
Do not exceed the recommended daily dosage.
It does not replace a varied and balanced diet.
Not suitable for children, pregnant and lactating women.
We do not recommend in case of hypersensitivity to any active substance.
Store in a cool, dry and dark place.
Store out of reach of children.
Production and distribution: KASFERO NATURMEDIZIN® Biomedical manufacturing
ULCER COLI© – HERBALEON Manufactur protocol Nr. 52ULC201820A001
The package contains 100 ml.