Description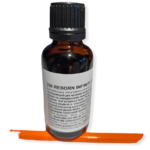 256 REBORN INFINITE COMPLEX©
*bioenergetic* herbal drops
Regeneration, prevention and rejuvenating effect.
Ingredients: All used ingredients are closely specified on the following link: https://forever-young.kasfero.org/ucinne-latky/
A concentrated source of herbal-mineral substances and metals in the form of medicinal elements, with a preventive, regenerative and lymphatic effect on the respiratory tract, urinary system, locomotor system, cardiovascular system, reproductive and endocrine system.
Nutritional supplement with proven declared effects, which represents a combination of quantum and natural medicine, based on results and evidence.
Recommended daily dose:
Anti-aging: 10 drops per day
Regeneration of functionality of systems and organs: 2 x 20 drops per day
Instil into water (about 100-200ml) and mix well.
The package contains: 100 ml (approx. 2500 drops)
We do not recommend in case of hypersensitivity to any active substance.
Not suitable for children under 12 years of age, pregnant and lactating women.
Do not exceed the recommended daily dosage.
It does not replace a varied and balanced diet.
Store in a cool, dry and dark place.
EU decision numbers: EU/SR 9852/2016, 9868/2016, 8514/2016, 9857/2016, 6049/2017, 9871/2016, 8523/2016, 9863/2016, 9865/2016, 9859/2016, 1867/20 . /2016, 8525/2016, 8529/2016, 9854/2016, 9855/2016, 9854/2016, 9856/2016, 9869/2016
Distribution: KASFERO NATURMEDIZIN® – www.kasfero.de – Manufacture made in Germany since 1991.